We deliver multi-disciplined business solutions by integrating architecture, interior design, strategy and deep local immersion.
Altis Architecture provides genuine collaboration of disciplines; Architecture, Interior Design and Strategic Planning. Our collaboration is not superficial or completed in isolation, it involves full physical integration of disciplines right from the inception of a project. We bring to each project the specialised knowledge we have gained over 30 years working with a wide range of clients, clubs, pubs, restaurants, hotels, retail, residential and master planning schemes. We develop your project brief and scope based on systematic and comprehensive research of local context.
A staged journey of transformation
From inception of a project to its completion, we involve our specialist Architecture and Interior design teams together to work as one. Our leadership team contribute their understanding through a series of design and technical workshops ensuring a sharing of knowledge occurs.
We often begin a scheme from a master planning phase which is implemented progressively over a sequence of stages. Often programmed into the masterplan is the capability for expansion and development of land and building assets beyond the immediate brief.
We may begin with a club redevelopment, expansion or upgrade, however the brief may evolve in future years to include a hotel, seniors living or mixed-use construction. This process always considers current and future market movements as well as knowledge of industry specifics.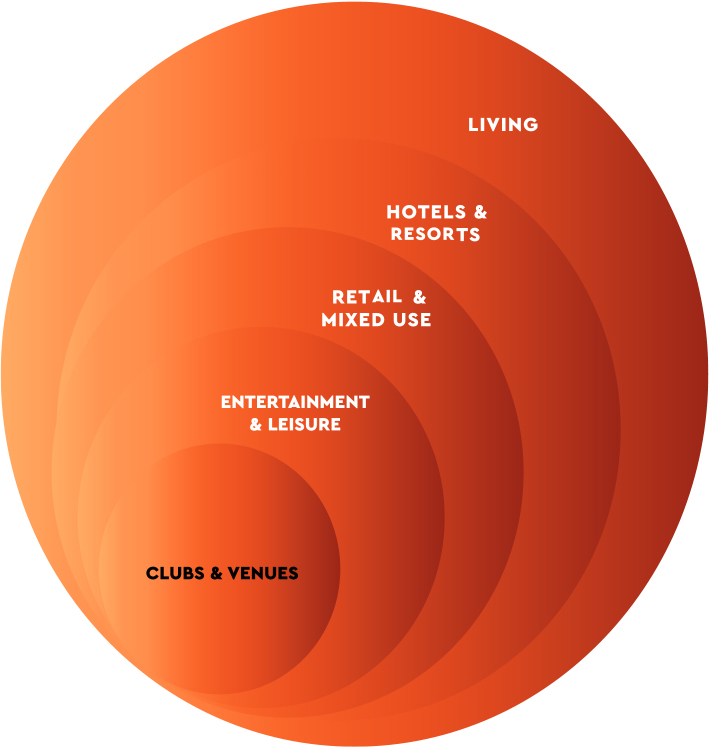 Our core business is hospitality and club design, with growth and changing markets, we apply this specialist knowledge to other areas of Architecture, the results are unique destinations with an edge
Our process
1 Project audit & research During and after project completion we conduct thorough project reviews and completion assessments in order to understand what works in each unique scenario.
2 Value adding insights/leading ideas We contribute our collective knowledge and experience to each project. We adapt and innovate to suit your unique brief, whilst contributing our extensive industry experience. Our ideas come from creativity; trends are transient and we understand that your project needs to be timeless and sustainable.
3 Master planning strategy Master planning is often the foundation for successful development. At this stage, strategy, business projections and future asset utilisation is implemented. We develop our strategy with you with opportunities for your growth as a primary consideration regardless of the size of your immediate project we always look at the future opportunities for your venue, ensuring that you are building in the right direction.
4 Risk minimizing feasibility planning The risk planning process involves developing a feasible and efficient plan for minimising risk and exploiting available opportunities. This is done through site studies, consulting with urban authorities and in line with statutory regulations.
5 Fully integrated architecture & interior design Our Architecture and Interior Design teams are fully assimilated, many of our designers are educated in both disciplines. Right from the inception of a project both groups work together collectively. Neither works isolation and each informs the other.
6 Selection of furniture, lighting & artwork Our creative scope often reaches beyond Interior Design and Architecture. In order to resolve a cohesive space appropriately, further input is required. When appropriate, we select furniture, lighting and artwork to suit the design brief. Our holistic approach to design means that your project is tailored.
7 Overall project coordination The talented team at Altis Architecture are skilled in working together with professionals to manage collaboratively the successful delivery of projects. We coordinate with capable consultants to manage and organise workflow and ultimately optimise outcomes.